Cyber Range Producer and Business Director
13 views
Job Overview
Salary Offer

Commensurate with Experience

Experience Level

Highly Skilled

Total Years Experience

6-10

Education

Master's Degree
Detailed Job Description
This position will provide leadership and creative direction to build, market, and operate compelling and immersive cyber security and disaster recovery training scenarios. Working closely with the Technical Operations / E-sports Director, and in partnership with University faculty and staff from across all of RIT's colleges, the Producer & Business Director creates, positions, and promotes bespoke training and assessment experiences for individual learners, multidisciplinary teams, and senior executives across critical infrastructure industries.
The Producer & Business Director acts as an interface between RIT and the global cybersecurity industry to develop and maintain partnerships with companies, government agencies, industry organizations, other academic institutions, and outreach targets. The Director will help establish RIT's reputation as the leading cybersecurity education and research institution through the scenarios offered within the Cyber Range. This position reports to the Director for Training, Testing, and Outreach in RIT's Global Cybersecurity Institute (GCI).
MAJOR RESPONSIBILITIES
Conducting ongoing customer discovery and client engagement to optimize product-market fit.

Conduct and document voice of the customer (VOC) feedback with board members and industry leaders and translate VOC into bespoke range offerings, project team strategy and promotional programs, as well as discovery of how the cyber range can support research needs and curriculum enrichment.

Design, market and recruit for the Cyber Range programs with activities that increase workforce development training enrollments.

Lead the planning and execution of marketing programs and training delivery from start to finish.

Conceptualize and execute on multi-channel campaigns across the customer lifecycle, ensuring the alignment of communications and messaging across all traditional and non-traditional channels.

Planning, organizing, creating and executing marketing activities and training programs to achieve strategic goals set by the GCI leadership.  

Consults and collaborates with the GCI, RIT's Development Office, and the Division of Marketing and Communications (M&C) to lead the development and implementation of a strategic, comprehensive, and integrated marketing and communication plan that targets key constituents of RIT.

Working with University faculty and staff to create alternative reality experiences and cyber security/disaster recovery teaching cases.

Overseeing creative design of crisis scenario storylines and multimedia content.
Managing content development teams and coordinates instructional delivery to ensure the RIT Cyber Range provides world class learning and assessment experiences.
Initiating, developing and maintaining relationships with industrial and other partners such as industry associations connected to the primary sectors of the cybersecurity industry that result in:
industrial partnerships for workforce development

curriculum enrichment

research support.
Work closely with RIT partners such as Development, Alumni Relations and multiple Colleges at RIT to accomplish the goals of this position. For example, in collaboration with Alumni Relations, develop an active alumni base, alumni programs, and alumni engagement initiatives to book the Cyber Range for workforce development training.Increase the visibility of the Global Cybersecurity Institute's Cyber Range by participating in and attending conferences and/or tradeshows or similar events.
Assist the GCI in developing a Cyber Range Industrial Advisory Board and conduct board meetings, in coordination with the GCI Executive Director and the Director for Training, Testing and Outreach.Work with the GCI leadership, faculty and staff members to evaluate existing undergraduate and graduate curriculum including initiating, enhancing and supporting initiatives such as:
industry training (credit and non-credit)

non-traditional course delivery (online, Ed-X, global, executive leader format)

curriculum updates and modifications and introducing new content areas
OTHER DUTIES AS ASSIGNED
Department/College Description
The College:   The B. Thomas Golisano College of Computing and Information Sciences is the largest of RIT's nine colleges, and has an enrollment of over 3,100 undergraduate students and 850 graduate students. The college, with over 140 faculty members, is housed in a modern facility equipped with numerous teaching and research laboratories. The college is home to the departments of Computer Science, Computing Security, Information Sciences and Technologies, Software Engineering, the School of Interactive Games and Media and a college-wide Ph.D. program, providing many opportunities for cooperation and research collaboration within and beyond the college.
The Department: Global Cybersecurity Institute
Technological excellence is at the heart of the Global Cybersecurity Institute's leadership. Both educational programs and impactful research in cybersecurity require a significant initial technology investment and funding to ensure that the technological environment remains at the leading edge.
Global Cybersecurity Institute: Research with a Human Touch
RIT's Global Cybersecurity Institute research initiatives bring together a range of expertise from across the university to understand and address real-world challenges in cybersecurity and to prepare the next generation of cybersecurity experts. The research programs are highly interdisciplinary and human centered to ensure that the security knowledge is driven by the computing users. The Institute's research agenda is powered by nearly two dozen faculty across multiple colleges at RIT informing perspectives from engineering, psychology, public policy and more as they related to the field of cybersecurity.
Areas of strength include:
Cyber Analytics
Secure Software
Cybersecurity Education Research
Internet Privacy
IoT Security

Global Cybersecurity Institute: Academic Programs
A pivotal element of RIT's leadership in the cybersecurity field is the robust suite of cybersecurity academic programs developed over the last decade. There are nearly 400 undergraduate, and more than 50 graduate students enrolled across the programs offered within the Department of Computing Security, helping to make RIT one of the leading educational sources for future professionals in cybersecurity. Existing academic degrees and certificates include:
BS in Computing Security
Minor in Computing Security
MS in Computing Security
BS/MS in Computing Security
BS in Software Engineering/MS in Computing Security
BS in Computer Science/MS in Computing Security
BS in Computing Security/MS in Public Policy
Advanced Certificate in Cybersecurity
RITx MicroMasters in Cybersecurity on edX.org
Required Minimum Qualifications
Bachelor's degree (indicate specific field, if required) Business, Theatre, or related field
A minimum of 5-7 years of relevant professional experience in marketing, communications, and/or business development

SPECIALIZED SKILLS
Must be proactive.
Must be creative and innovative.
Must have excellent communication skills including interpersonal, presentation, and listening skills.
Must have demonstrable problem-solving skills.
Must be able to interpret data and synthesize trends.
Must have a proven ability to work with a variety of constituents and stakeholders to achieve goals.
Ability to work effectively independently and as a contributor to team efforts.
Willingness and ability to learn and understand the academic, research, and outreach programs of the Global Cybersecurity Institute
Skilled at organizing projects, handling multiple tasks simultaneously, meeting deadlines. Demonstrated success in digital and traditional media.
Commitment to quality productions.
Maintain a customer-service attitude.
Continually stay up-to-date with skills and knowledge relative to the position.
PREFERRED:
Master's Degree/MBA
5-7 years leadership in training experience design is strongly
Previous experience in higher education marketing, corporate training, and/or cybersecurity communication
3-5 years of leadership in a cyber-range, security operations center, or emergency operations center is strongly
3-5 years' experience managing distributed and diverse project teams
3-5 years' experience creating new security product/service offerings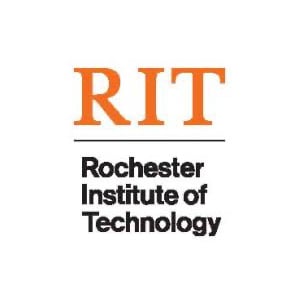 RIT is a kaleidoscope of curious minds working together through creativity and innovation to find new ways to move the world forward.
(0)